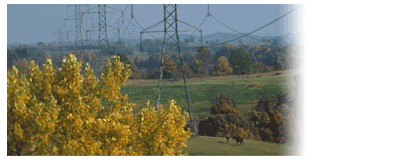 FAQs
General Questions
What is Pioneer Transmission, LLC?
Pioneer Transmission is a 50/50 joint venture formed by Duke and AEP to build, own and operate electric transmission facilities in Indiana.
Who is Duke?
Duke Energy, the largest electric power holding company in the United States, supplies and delivers electricity to approximately 7.2 million U.S. customers in its regulated jurisdictions. The company has approximately 49,700 megawatts of electric generating capacity in the Midwest, Florida and the Carolinas, and natural gas distribution services in Ohio and Kentucky. Its commercial power and international business segments own and operate diverse power generation assets in North America and Latin America, including a growing portfolio of renewable energy assets in the United States.
Who is AEP?
American Electric Power is one of the largest electric utilities in the United States, delivering electricity to more than five million customers in 11 states. AEP ranks among the nation's largest generators of electricity, owning nearly 38,000 megawatts of generating capacity in the U.S. AEP also owns the nation's largest electricity transmission system, an over 40,000-mile network that includes more 765-kilovolt extra-high voltage transmission lines than all other U.S. transmission systems combined.
What will the project entail?
The project consists of the construction of approximately 290 miles of 765-kV transmission lines extending from Duke's Greentown substation near Kokomo, Ind., and terminating at AEP's Rockport Station near Evansville, Ind. The total cost of constructing these lines and related stations is estimated to be $1.1 billion.
The first portion of the project, a 70-mile 765-kV line extends from Greentown Station west to Reynolds Station, just north of Lafayette, Ind. The total cost of constructing this portion of the line and related stations is estimated to be $328 million. MISO, the regional transmission organization which handles planning for the reliable generation and transmission of energy, has identified this project as part of its "Multi Value Portfolio" (MVP) aimed at reducing wholesale power costs and grid congestion while increasing system reliability.
The remaining portion of the project will be evaluated by MISO and PJM as part of their next planning review cycle.
The project will enhance the reliability of power delivery by creating a major new route for power. It will better link the region's power plants and create a route for new generation.
Who will own any new assets that are built?
Pioneer and NIPSCO will each own a part of the Greentown to Reynolds Project. The remaining portion of the project will be owned by Pioneer.
What will be the benefit of this effort?
This project is one part of a larger, multi-regional effort to develop a new, high-capacity transmission system to meet increasing demands for energy and modernize the electric transmission infrastructure. By relieving congested lower-voltage lines, this project will enhance the reliability of the regional transmission system, improve operational and maintenance flexibility, offset the need for smaller, incremental upgrades on lower-voltage lines, and lower costs by reducing congestion and system losses. It will also enable further development of new generation resources in Indiana.
What will the cost be?
The total project cost is currently estimated to be $1.1 billion; however, the final cost will depend on the routing of the line, equipment and commodity costs. The first segment of the project approved by MISO is estimated at $328 million.
Who pays for transmission lines and facilities?
The costs of these transmission lines and facilities will be allocated according to Federal Energy Regulatory Commission-approved cost allocation mechanisms for regional transmission operators. The costs are shared among utilities and their customers using the new facilities.
What environmental impacts will be considered when siting the project?
Among impacts considered: endangered species, protected areas, local routing concerns, pivot irrigation, local landmarks, historic sites and natural heritage sites.
Regulatory and Government Policy
Which regulatory bodies will have to approve the project? What is the timeline?
Pioneer has submitted the entire Greentown to Rockport project to PJM and MISO for consideration in their transmission expansion plans. The project will be built in segments, with in-service dates determined through the MISO and PJM planning processes. The first segment of the project, a 70-mile 765-kV line from Greentown to Reynolds was included as a MISO Multi-Value Project and is anticipated to be in service in 2018.
In April of 2013, Pioneer Transmission, LLC received approval in Indiana to operate as a transmission utility.
Technology
What will be the capacity/size of the transmission lines to be built?
The transmission line for the Greentown to Reynolds segment will require easements of approximately 200 feet in width. On average, the height of the steel structures will be approximately 135 feet, and the distance between the structures will be approximately 1,250 feet.
All new transmission lines constructed as part of the joint venture will be 345 kV or above.